What is my online reputation? This is a question I'd like to answer for you. Take the quiz below to find out your Online Reputation Grade.
If you've ever received an online review for your business, you have an online reputation. I get it. Getting online reviews can be frustrating for you as a business owner.
Handling negative reviews can make many of the people I've worked with reluctant to ask their customers/clients to leave a review.
If you've wondered how your reviews impact your business, you're in luck. I created a quiz that will provide you with a grade letting you know how good, or how poor your online reputation is across the top review sites on the web.
This quiz should only take about ten minutes to complete. Make sure to answer each question as honestly as you possibly can. The more honest your answers, the more accurate your grade will be.
Once you complete the quiz, you will be directed to fill out a form to enter your company's contact details so we can send you the results of the quiz.
Once you complete the form, you'll be directed to my calendar to schedule a 15-minute virtual meeting to get the details about your results and possible solutions. You aren't obligated to schedule a call if you aren't interested in the details of your results. However, if you don't, you won't fully understand your reputation grade.
Complete the quiz below, and find out your Online Reputation Grade now.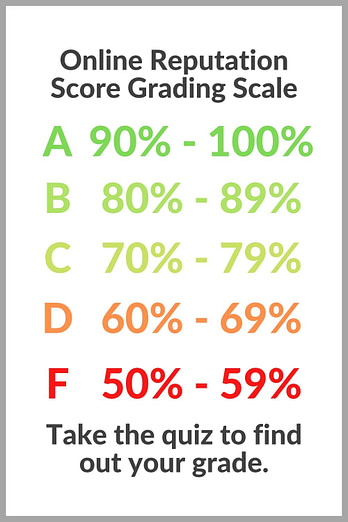 Use the grading scale shown above to find out what your Online Reputation Grade is. If you receive grades C – F, I would recommend scheduling a virtual meeting. If you receive a grade of A or B, scheduling a virtual meeting would benefit you if you want to find more ways to effectively compete in your market.
Solution
If you're in a position where you can't afford reputation management services, and need a solution to get reviews now for free, here's a great video tutorial. This video will show you the simple steps for getting reviews without any technical knowledge or even a website.